ESG Management
ESG Management
ESG: definition
ESG stands for Environmental, Social and Governance. Today, ESG is used globally as a standard for assessing the non-financial performance of enterprises.
ESG encompasses a number of different concepts, including corporate social responsibility, sustainability, creation of shared value and sustainable development.
The focus is on key non-financial factors which may have an impact on financial value in the long term.
Toward ESG management implementation, PURIUM will systematically establish and pursue management areas, strategies and objectives.
PURIUM's ESG management areas
Society

· Job creation

· Fostering partners

· Consumer satisfaction
Environment

· Developing and furnishing environmentally friendly products

· Developing and furnishing environmentally friendly services
Contribution to society

Economic - corporate management activities
(economic accountability for products and services, etc.)
Society

· Human rights and labor issues

· Marginalization of vulnerable groups

· Price-fixing and other unfair acts
Environment

· Greenhouse gas emissions

· Environmental pollution

· Resource depletion
PURIUM's ESG management strategy and objectives
VISION
A world leader in safer, cleaner indoor spaces
Core Value
Good technologies, caring business
A happy workplace for all
Slogan
"
Together with PURIUM.
"
Together PURIUM
ESG management as a joint effort by all employees, executives and suppliers toward creating "Safer, cleaner spaces" for all


ESG innovation objectives
01
Creating a healthier workplace
ESG Risks Zero
· Addressing ESG vulnerabilities
(90% compliance rate by 2022
· EPEAT

*

certification (by 2023)
02
Reinforced eco-friendly management practices
Contribution to creating cleaner indoor spaces
· Expanding the D2D(PURIUM PLANET) market
· Achieving carbon net neutrality (by 2023)
03
Fostering master talent
Future-oriented talent discovery and fosterage
· Leadership in healthy work-life balance
· Merit-based corporate culture
*
EPEAT : The Electronic Product Environmental Assessment Tool (EPEAT) is an environmental friendliness/energy certification co-administered by the US Green Electronics Council and Underwriters Laboratories, the most influential safety standards institution in North America.
ESG management proclamation
PURIUM's 'ESG Management Proclamation Ceremony' was held on January 25, 2022. At the ceremony, the company announced its vision to △ Address ESG management weaknesses, △ Realize a healthy workplace through EPEAT certification, △ Expand the D2D market, △ Reinforce eco-friendly management practices by achieving carbon net neutrality, △ Promote healthier work-life balance, △ Foster master talent, and △ Establish a merit-based corporate culture. All PURIUM employees signed the 'PURIUM ESG Management Objectives Pledge', promising action in ESG management practices including voluntary participation in community service activities.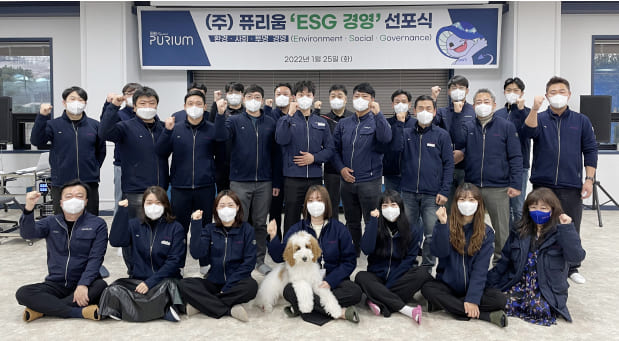 CSR Reports
We are on a mission to create cleaner, safer spaces. We take society's heightened expectations for environmentally friendly management, transparent management practices and corporate social responsibility seriously. Our first CSR report was issued in 2021, and starting in 2022, we will issue biannual ESG management reports to share PURIUM's ESG plans and achievements.
2021 CSR Reports